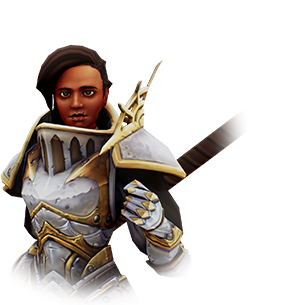 The Paladin, who heals and protects her allies to keep them fighting, is one of the heroes of House Rupah in A Year of Rain.
Abilities
[
]
She has the following abilities:
Lay on Hands: Instantly restores some of a friendly unit's health and reduces incoming damage by a set percentage for a couple of seconds.
Fear no Darkness: Shields her from some damage and redirects incoming damage in a small area on to the paladin for a couple of seconds.
Dawnblade: She dashes some distance towards an area and swipe attacks enemies in the area in front of her applying a debuff that slows down for a couple of seconds.
Night's End: She protects all units from incoming damage in a circular area for a couple of seconds.