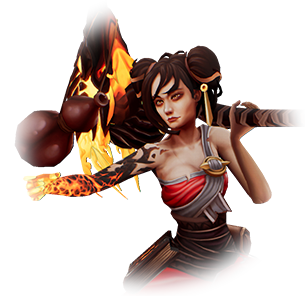 The Spark Mage, who lays waste to her enemies with powerful fire magic, is one of the heroes of House Rupah in A Year of Rain.
Abilities
[
]
She has the following abilities:
Fireball: Deals damage to all enemies in a circular area.
Fiery Chains: Roots all hostile units in the circular target area in place for some seconds, making them unable to move.
onjure Fire Elemental: Summons a fire elemental that attacks enemies.
Emberstorm: Summons a circular firey vortex for some seconds that pulls enemies towards it and dealing damage.